Loyal but unloved: 3 stocks craving your attention
January 2020 | BY Bill Pridham
The case for investing in global stocks is hard to disagree with: more choice, more diversification, and more representation of sectors. Often it's just the challenge of knowing where to start. Livewire reached out to Ellerston Global Portfolio Manager, Bill Pridham, to share his insights on the most underappreciated stock in the Ellerston Global Mid Small Cap Fund & Ellerston Global Investments (ASX: EGI) portfolio.
LiveRamp: Connecting tomorrow's returns to today
We consider LiveRamp (RAMP.US) to be the most underappreciated position in our portfolio right now. We have been taking advantage of this to add to our position.
Our strategy is to connect tomorrow's returns today and that basically involves identifying high-quality businesses in the Global Mid/Small cap space which are currently undergoing a period of change with future potential returns being mispriced by the market today.
LiveRamp is going through a period of such change as its business has been transformed over the past year.
Today, it has a market cap of US$2.9bn (~A$4.2 bn) with just under US$800m of net cash on its balance sheet after buying back over US$800m of stock in the past 18 months.
Revenue has been guided to c.US$380m this year which represents 33.5% growth. Management expects to reach a $1bn revenue run rate in the next four years which represents a high 20% revenue CAGR at very high incremental margins over the period.
LiveRamp provides the infrastructure to connect all the world's data sources to all the places this data can be utilised, be it desktop, tablet, mobile or even your connected TV. It views itself as the Switzerland of data as it provides a platform for companies to access and share consumer data to deliver more effective personalised marketing where consumer privacy is becoming increasingly important.
Very few companies really want to share data directly with Facebook or Google and given LiveRamp hosts over 200m consumers, it provides scale similar to these online megacaps with significant network effects.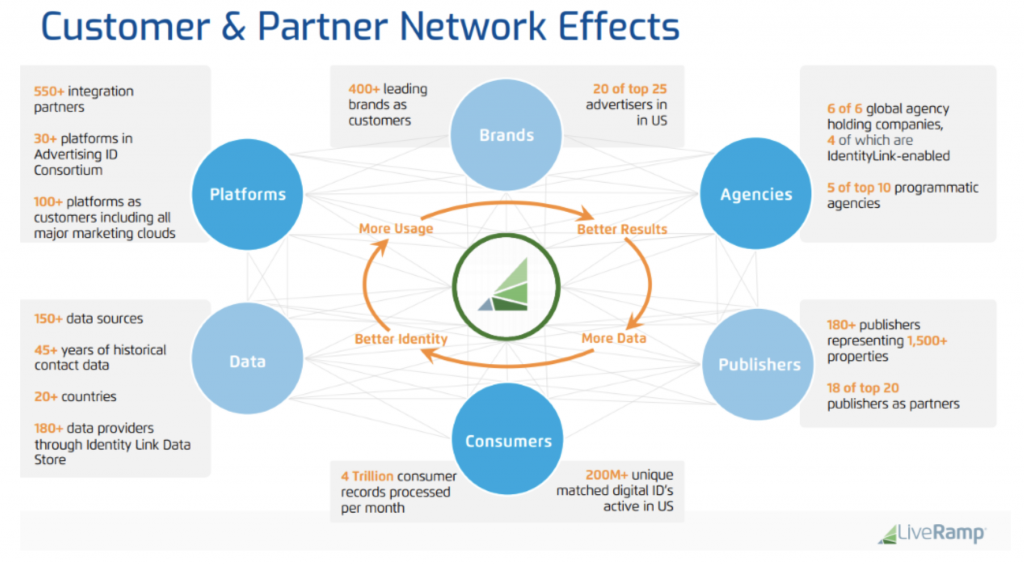 LiveRamp sold its traditional advertising business (Acxiom) a little over a year ago for US$2.3bn and subsequently emerged as a pure-play subscription business for marketers to target consumers online in a secure, private manner.
We believe the market is not fully aware of LiveRamp's business proposition as the industry standard for connecting data while near-term earnings have been dampened somewhat as it carried non-recurring expenses associated with the transformation.
See more insights from Jordan Cvetanovski from Pengana Capital Group and Paul Mason from Paradice Investment Management in the complete Livewire article: Loyal but unloved: 3 stocks craving your attention.