Ellerston Global Mid Small Cap Fund (Unhedged) stands as one of the top performing
Top performing global small/mid cap funds were not affected by the US/China trade war and Brexit, says Chris Dastoor in his recent Money Management article:
Of the best performing funds, Ellerston Global Mid Small Cap Fund (Unhedged) came in at second place, with top regional weightings in the US (67.6%), Spain (6%), UK (5.5%), Japan (2.9%) and the Netherlands (2.6%), as at 30 September, 2019. Global equity markets pushed higher last month, as progress on key issues that had been overhanging the market continue to be addressed.
According to FE Analytics, the ACS Equity – The Global Small/Mid Cap sector returned 18.96%, over the year to 29 November, 2019.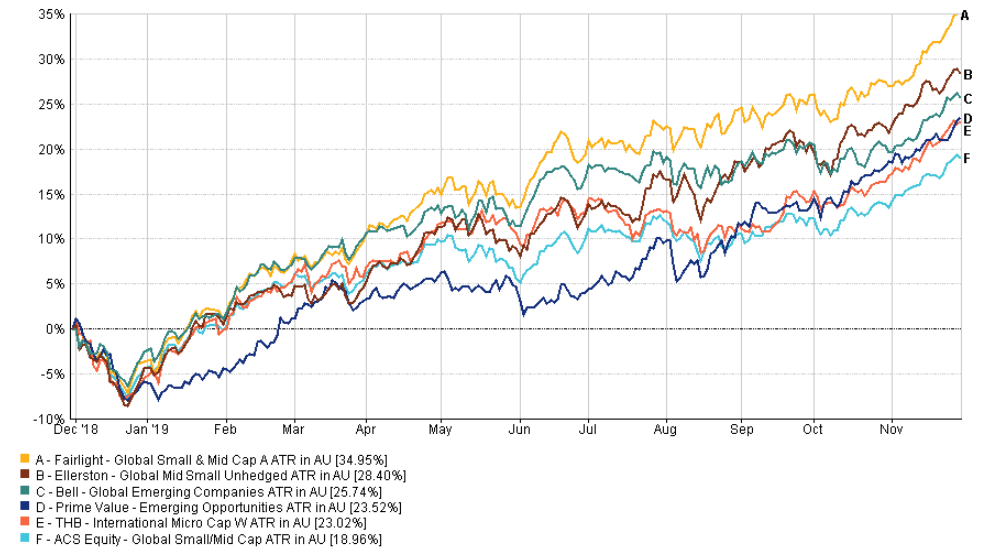 Click here to read more…
Ellerston Capital Limited ABN 34 110 397 674 AFSL 283000 is the responsible entity and issuer of units in the Ellerston Global Mid Small Cap Fund (Unhedged) ARSN 609 725 868. Any information is general and does not take into account your personal objectives, financial situation or needs. Accordingly you should consider the Product Disclosure Statement before deciding whether to acquire or continue to hold units in the Fund available from this website or by contacting us on 02 9021 7797. Past performance is not a reliable indicator of future performance.