At the start of the year, we wrote about the "Forever Chemicals" otherwise known as per and poly-fluoroalkyl substances, or PFAS for short. If you remember, PFAS is used in a wide variety of modern applications such as non-stick cookware, which prevents food from sticking and making the clean up of pots and pans much easier, fire fighting foam which is commonly used at airports, military bases and petrochemical plants and water repellent applications (think 3M's Scotchgard) including clothing, carpets and furniture to name a few.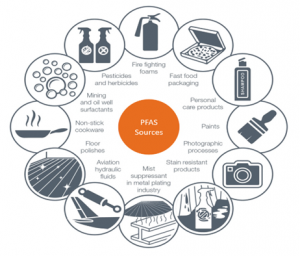 Source: Australian Department of Defence.
While PFAS chemicals are used in everyday applications, as noted above, they have been found to accumulate in humans, animals and the environment over time (as they break down very slowly) with the potential to be very harmful to human health.
We have had a few major announcements from both public and private players post our initial blog that we would like to provide updates on.
On March 14, the US Biden-Harris Administration announced the proposal for the first-ever national drinking water standard to combat PFAS pollution.  The Environmental Protection Agency (EPA) is spearheading the effort and is expected to come out with definitive standards around PFAS concentration and the number of PFAS compounds that will fall under the new regulations (likely announced in August 2023).  The proposal will also be underpinned by the distribution of US$10bn in funding to combat PFAS exposures.
In mid-May, Australian Prime Minister, Anthony Albanese, stated that PFAS has been an issue in many communities (especially around airports and military bases) where people have suffered, and he is concerned about the health outcomes of those affected by it. Accordingly, the Federal Government settled a class action over PFAS contamination and will pay out AU$132.7m to landowners at seven sites that were exposed to poisonous chemicals (PFAS) in firefighting foam.
More recently, on June 2nd  The Chemours Company, Dupont and Corteva jointly announced that they had reached an agreement to resolve all PFAS drinking water claims associated with public water systems (PWS) that serve the vast majority of the US population. The settlement will see US$1.185bn allocated to a settlement fund which can be accessed by the water districts associated with the agreement.
These settlements have subsequently been dwarfed by the announcement from 3M at the end of June that it has entered into a broad resolution to support PFAS remediation for PWS that detect PFAS at any level or may do so in the future.
3M has agreed to contribute up to US$10.3bn (present value) payable over 13 years and will provide:
Funding for PFAS treatment technologies for PWS across the US;
Funding for PWS that may detect PFAS in the future; and
Funding for PWS nationwide to conduct testing for PFAS.
While it is early days, and we haven't really seen any material spending allocations from outside the US, from these announcements alone there is about US$21.5bn already allocated to testing and cleaning up the PFAS contamination problem. According to Stifel, the funding currently announced is a drop in the bucket compared to the likely annual spend of US$15-20bn to manage PFAS in PWS and US$100's of billions required in capital investment to test and treat the drinking water supply down to the EPA's 4 parts per trillion which is under consideration.
Within the Ellerston Global Mid Small Cap Fund, we have two businesses with direct exposure to addressing the PFAS issue which is really only starting to gain awareness and traction.
Chart Industries owns AdEdge which already has over 1,100 water treatment systems treating a variety of contaminants (as seen below). It has extensive experience in removing PFAS from water and provides a complete treatment system for its customers.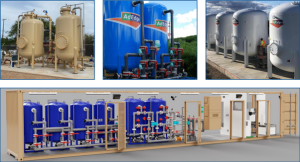 Source: ChartWater.
In its last earnings call, Chart Management indicated that after the EPA proposed the first-ever national standard to address PFAS in the US drinking water supply it had been quoting a much higher volume of requests from both public and private water utilities.  It is providing treatment as a service for customers and recently won a New Jersey-based utility which is no doubt the beginning of many more similar projects.
Montrose Environmental provides both testing and remediation of PFAS in the US as well as Europe and here in many Australian military bases. In its most recent earnings call, Management highlighted that the EPA has signalled an intent to designate seven more PFAS chemicals to the list of hazardous substances. This will require retesting and further remediation requirements over the coming years.
As highlighted in its most recent presentation, Montrose anticipates >US$160bn of PFAS remediation requirements in the US alone, clearly on a global scale this will be much larger.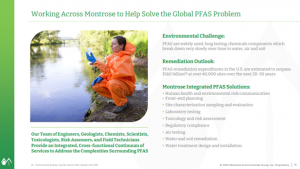 Source: Montrose Environmental.
We anticipate several years of activity for both Chart and Montrose as they help address and clean up the global PFAS issue. As shareholders in both companies, they provide our investors exposure to businesses with strong secular growth thematics underpinned by both public and private spending requirements while doing good for the communities exposed to the serious health implications associated with PFAS exposure.
This blog was written by Bill Pridham, CFA. Ellerston Global Portfolio Manager and Head of International Research.
Sources:
https://files.chartindustries.com/PFAS%20Treatment%20Solutions[49].pdf
https://s25.q4cdn.com/108812351/files/doc_presentations/2023/06/Montrose-Investor-Presentation-June-2023.pdf
https://www.abc.net.au/news/2023-05-15/pfas-class-action-commonsettlement-reached-with-30-000-claimants/102346274
https://www.businesswire.com/news/home/20230602005091/en/
https://www.epa.gov/newsreleases/biden-harris-administration-proposes-first-ever-national-standard-protect-communities
https://www.epa.gov/system/files/documents/2021-10/slides-epa-pfas-roadmap-public-webinars.pdf
https://www.epa.gov/system/files/documents/2022 11/PFAS%20Roadmap%20Progress%20Report_final_Nov%2017.pdf
https://www.whitehouse.gov/briefing-room/statements-releases/2023/03/14/fact-sheet-biden-harris-administration-takes-new-action-to-protect-communities-from-pfas-pollution/