Renewable energies can tackle 55% of global greenhouse gas emissions, the remaining 45% comes from the management of everyday goods and assets.
The rapid increase in the middle class over the last 100 years has resulted in suppliers relying on the "take-make-waste" business model. As a result, currently only 8.6% of the world is circular.
A circular economy, is an economic system aimed at eliminating waste and the continual use of resources. Circular systems employ reuse, sharing, repair, refurbishment, remanufacturing and recycling to create a closed-loop system. According to the Ellen MacArthur Foundation:
"Circular economy principles present unique opportunities to help tackle the climate crisis by reducing GHG emissions along supply chains; preserving the embodied energy of products and materials; and increasing carbon sequestration through the regeneration of natural systems."
Circularity addresses resource over-use, climate change, monocultures, water scarcity and waste. It is needed to achieve zero emissions by 2050 to meet the 1.5 degree Celsius target set out in the Paris Agreement. A circular economy contributes to at least 12 of the 17 SDG goals outlined in the UN's 2030 Agenda for Sustainable Development.
While there is a price tag of $4.5trn of global growth potential as a result of circularity it plays a very important role in decoupling economic activity from the consumption of raw materials.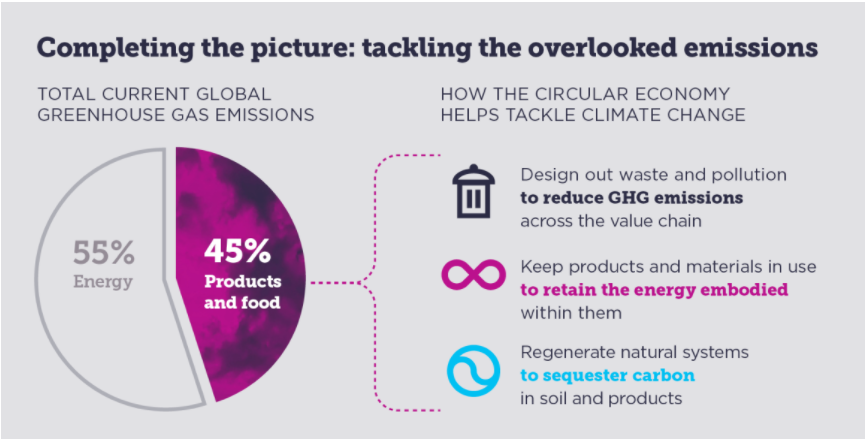 Source: Ellen MacArthur Foundation, Material Economics, Completing the picture:How the circular economy tackles climate change (2019)
The fourth industrial revolution is driven by stakeholders pressuring corporations to be aware and accountable for the societal impact per every dollar of profit. No one organisation can achieve this alone and integral to circularity is multiple stakeholders coming together. As an ESG investor and a relevant stakeholder, we view the fourth industrial revolution as one of the most important investment thematics of today and we too need to play our role in its success.
How are we doing our part? Investing for Circularity
The Ellen Macarthur Foundation has identified the circular economy growth potential in 10 key sectors. Plastics & Packaged Goods, Fashion & Textiles, Food & Agriculture and Electronics have been identified as high potential for growth in the short-medium term.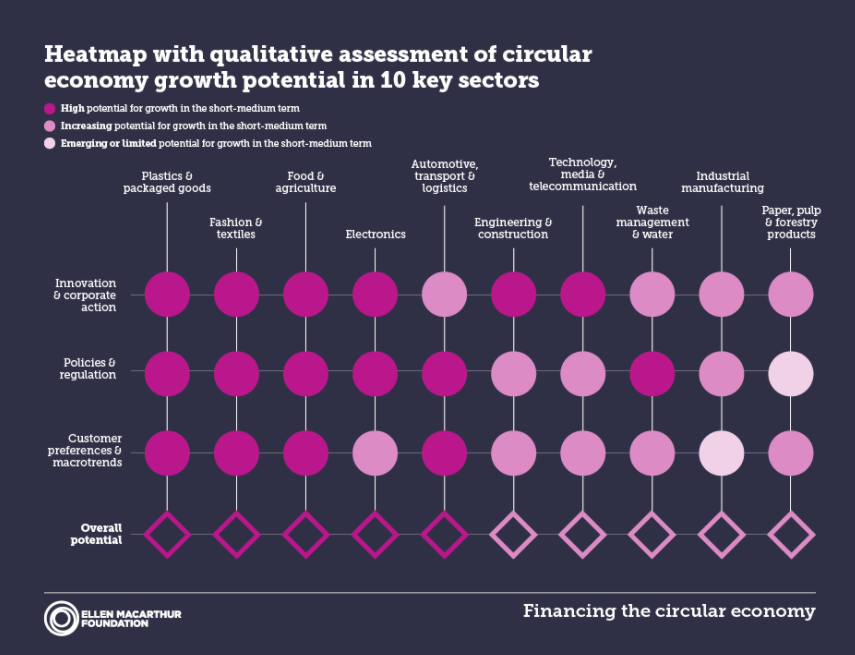 Source: Ellen MacArthur Foundation
Enabling technology to assess and reduce negative societal impacts is at the core of allowing corporations to grow sustainably, meeting profit targets while positively contributing to society. Only 14% of plastic packaging is collected for recycling – and just 2% is recycled to similar quality level; only 20% of electronics disposed each year is documented as collected for recycling.[1] Technology-enabled solutions for circular value chains is required to increase the percentage of product that stays within the closed-loop circular system.
The World Economic Forum has identified the below circular challenges:
Opaque value chains
Linear product design (lack circular designs)
Inefficient collection and reverse logistics
Insufficient sorting and pre-processing infrastructure
We recognise that currently there are varying degrees at which corporations are adopting technologies to achieve positive ESG outcomes. As more companies make circularity commitments, companies that provide solutions to help combat the 5 circular challenges identified above will be required. At Ellerston Global, we are investing in circularity solution providers.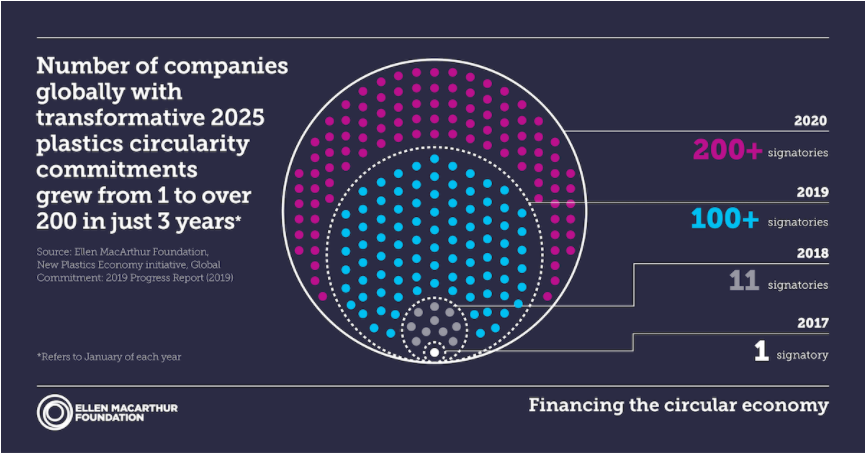 Source: Ellen MacArthur Foundation
Who are these Solution Providers?
In order to reduce the percentage leakage of product, circularity needs to be evaluated and tested at every stage of the product lifecycle from design, usage and waste recycle. Technology-enablers are required throughout a product's life to create, measure, improve and enable circularity. From the creation of a circularity index KPI that quantifies the circularity of a product design in a given market to remote maintenance, value assessment tools that promote second‑hand markets to IoT-equipped collection bins & waste taxis as well as block chain‑enabled remuneration schemes. Technology is a key enabler to digitize the product's lifecycle and connect multiple solutions required for a circular economy to grow.
What is the role of Investors?
Investors moving capital towards companies that are increasing the amount of value kept in the closed loop economy or those businesses whose purpose is to aid companies in improving their circular efforts.
Investing for Circularity:
Technology enablers of circularity
Aid the recycling process: determining residual values of products, collection, recycling process, finance
Increasing circularity via product utilisation: sharing models