After decades of 'throw away' fashion the industry is looking to change. 
The global fashion industry is worth $2.5trn each year which is roughly equivalent to 3% of global GDP. Approximately 100bn apparel items are sold every year, up 50% from 2006. The exponential growth in fast fashion consumption has been driven by decades of apparel price deflation. Cheaper clothing is made possible by increasingly global supply chains, the use of cheaper synthetic materials and some human rights violations of workers in developing markets.
As consumption habits continued to grow, increasing speed to market has facilitated the consumers desire to stay on trend. The World Economic Forum found that while people bought 60% more garments in 2014 as they did in 2000, they only kept them for half as long. Garments are made cheaply, quickly and with inherent obsolescence resulting in the majority of clothing ending up in landfill or burnt within one year of production. The opaque and disjointed nature of the global fast fashion industry means consumer demand will be a key driver for change in the future.
Putting the brakes on Fast Fashion
"We are seeing an increased demand, desire and expectation for brands to exhibit sustainable practices" – Samantha Sims, PVH VP Environmental Sustainability and Product Stewardship 2021
Current estimations show that without significant change the fashion industry will contribute to more than 26% of carbon emissions associated with the Paris Agreements 2 °C global temperature target (Ellen MacArthur Foundation, 2021).
The fashion industry is difficult to regulate due to its highly fragmented nature. However, the 2021 European Green Deal will be financed by $600m of investment as a part of the EU's broader post covid recovery plan. A key aspect of the Green Deal is the Circular Economy Action Plan (CEAP) which aims to reduce pressure on natural resources and achieve the EU's 2050 climate neutral target. The textiles industry is highlighted as a key area for improvement in this policy which aims to make sustainable products common place in the EU and lead global efforts in the circular economy.
As climate change concerns continue to grow amongst consumers and across industries 'fast fashion' will be under escalating scrutiny. Clothing production accounts for 10% of carbon emissions and causes 20% of industrial water pollution. Washing these cheap clothes made of synthetic materials releases 500,000 tonnes of microfibers into the ocean each year, the equivalent of 50bn plastic bottles (WEF, 2020). Approximately 60% of clothing made today contains polyester fibres which do not break down in the ocean. It is estimated that 35% of all micro plastics in the ocean came from washing synthetic textiles.
Consumer sentiment leads the way
"Consumers are seeking out authenticity from companies that reflect their own values" – Chip Bergh, Levi Strauss CEO 2021
A McKinsey study from 2019 found that while young consumers want to stay on trend, they are increasingly looking for sustainable clothing options. As a result, the lifespan of fashion products is being stretched as consumers opt for high quality products that are made to last. We are seeing this first hand within our portfolio and peer stocks which report strong full price selling and increased demand for durability and sustainability.
Circularity in action: PVH Corp.
"Only those brands that accurately reflect the zeitgeist or have the courage to 'self-disrupt' will emerge as winners" – Mckinsey & Company, 2019
Within its 2020 Corporate Responsibility Report, PVH outlined key initiatives to reduce the climate impact associated with the company and its products. At the heart of this change is product circularity and design. By 2025 PVH aims to have three of its most frequently purchased products be completely circular with full traceability of key raw materials. By 2030 it is targeting zero waste and zero single use plastic in its owned and operated facilities in driving sustainability. To achieve these targets, PVH has a variety of initiatives that use recycled inputs, reuse products already in circulation while increasing the traceability of raw materials to facilitate full circularity in the industry. The company maps these targets to the UN's Sustainable Development Goal's that specifically target circularity and innovation.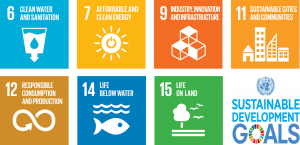 Ellen MacArthur Jeans Redesign Initiative
PVH has partnered with the Ellen MacArthur Foundation as part of the Jeans Redesign Initiative under the Tommy Hilfiger brand. The mission is to "create solutions for a world where clothes never become waste". The Foundation has gathered the expertise of denim experts to construct guidelines that ensure all clothes produced by signatories will be durable, recyclable and made with quality materials. Tommy Hilfiger CEO Martjin Hagman defined the brand's strategy as one that is moving from a "take-make-waste" approach to a system that reuses, repairs and recycles. As one of 70 signatories PVH has used this partnership to define its own criteria for circularity;
Designed with safe and renewable materials
Is made to be made again
Leverages new business models to extend the life of clothing, and capture rental and resale market share
Is underpinned by traceability and transparency, which are crucial to unlock circular product and business models at scale
Under this framework Tommy Hilfiger launched 100% pre-consumer recycled cotton denim styles, the first of its kind. The brand achieved this in partnership with sustainable textile manufacturer Kipas who are also a member of the Jeans Redesign Initiative. Recently the brand announced that the spring 2021 line for Tommy Jeans will include 100% recycled stretch-fit styles. As the innovation with recycled materials continue, more styles and products will be added.
Tommy for Life 
The Tommy for Life program is currently operating in the Netherlands and will gradually expand to other European countries. The initiative utilises multiple product challenges to extend the product lifecycle; pre-owned Tommy garments as well as damaged items from retail operations can be repaired and resold. Garments that cannot be repaired will be broken down and reimagined into entirely new garments. In exchange for this, customers or retailers receive store credit. ThredUp's 2021 industry resale report has found that 43% of consumers are more likely to shop with a brand that lets them trade in old clothes for brand credit.
The Tommy for Life program is running parallel to the Dutch Denim Deal where PVH is working alongside 38 other signatories to increase the supply of recycled cotton from the Netherlands and across Europe. At the end of 2020, PVH reported that Tommy for Life allowed them to divert 36,429 kg of textile waste in the Netherlands. The company plans to expand the project further in 2021 as the business model evolves.
This blog was written by Kelsey Bentley, Ellerston Global Investment Analyst