There is no doubt that lockdowns across the world associated with the continuing COVID-19 pandemic have changed the way we think about living at home. Working, home schooling and spending more time nesting indoors has increased our appetite to improve our quality of home living as many of us finally undertake those critical repairs and discretionary improvements. With a more flexible workplace, coupled with the city to suburban migration, millennials have also been enticed into home ownership. Spending has also shifted from out-of-home categories such as travel, restaurants and entertainment to at-home categories. All these trends have induced a pandemic boom for the home improvement market estimated to be worth $440bn for products alone, according to IHS Markit.
Even with strong reopening themes driven by vaccine drives, home improvement retailers such as Home Depot in the United States see robust demand for the 'next several years' with consumers continuing to be engaged and contractor backlogs long and growing.
Environmental impact of home improvement
What we might not realise is that all this renovation activity contributes to the environmental footprint of the building and construction industry. The Chartered Institute of Building estimates that the built environment generates a notable 30% of total global greenhouse gas emissions; while construction uses 32% of the world's natural resources.
In the US, the Environmental Protection Agency (EPA) found that 600 million tons of construction and demolition materials (such as concrete, wood products and steel) were generated in 2018, with almost a quarter ending up in landfill. The largest contributor was non-residential demolition followed by residential renovation.
C&D Debris Management by Destination, 2018, 600 million tons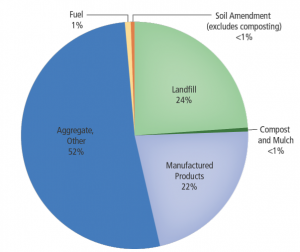 Source: EPA
Notably, almost three quarters of the 41 million tons of wood C&D products ended up in landfill, representing a particular lack of next-use markets and circular economy for wood and timber waste.
C&D Debris Management by Destination, 2018 (% of total generation amount for the material)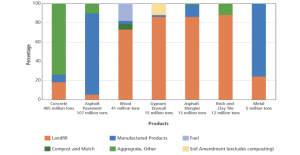 Source: EPA
Government policies
Governments and other policy-making bodies around the world have incorporated such sustainability issues within their pandemic recovery stimulus programs.
As front runners in this area, the European Green Deal anticipates a "massive renovation wave of buildings and infrastructure and a more circular economy, bringing local jobs". In particular, the circular economy action plan includes measures to make sustainable products the norm in the EU and focus on the most notorious sectors including plastics and construction and buildings.
As plastics consumption is expected to double in the coming 20 years, the EU Commission will propose mandatory requirements for recycled content and waste reduction in plastics which includes construction materials. They also estimate that 80% of the greenhouse gas emissions from material extraction, manufacturing of construction products, and the construction and renovation of buildings, could be saved from greater material efficiency.
Market Opportunity
These trends represent a significant opportunity for businesses that can do good. Roland Berger estimates that innovative new business models transforming the entire value chain for the construction industry could represent an additional global market of more than EUR 600 billion by 2025 with an annual growth rate of 12%.
10 circular business models for more sustainable construction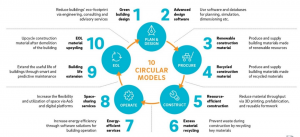 Source: Ronald Berger
Spotlight on composite decking
Within the wider US home improvement market, outdoor living represents a $20bn market consisting of decking ($4.1bn), railing ($2.6bn), exterior trim ($2.3bn) as well as other adjacencies ($11bn). To illustrate the opportunity of sustainability and circular economy, we will take a closer look at the secular shifts driving the US decking market.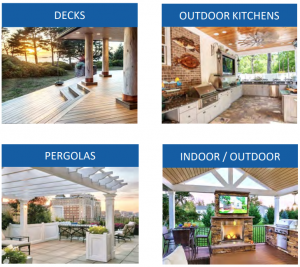 Source: AZEK
Within the core decking market, timber has been the most popular choice due to its classic feel and aesthetics, taking almost 80% share. However, as an organic material it is susceptible to rot, warp, shrink and twist particularly in outdoors settings if not maintained properly. Therefore it is recommended to be painted or oiled every six months and stripped and resealed every four years.
On the other hand, decks constructed from a composite of wood fibre and plastic are usually more weather resistant, lightweight and do not require such regular maintenance. Although typically at an upfront price premium, composite decking is also more environmentally sustainable than pressure treated timber decking due to the high recycled content of the raw materials. Furthermore, advances in material science have improved the natural aesthetic of the product.
Over recent years, there has been a significant material conversion trend from wood to more sustainable composites within the decking market. The AZEK Company is one of the two main players in the composite decking market and believe wood alternatives could reach 50% share from today's 22%.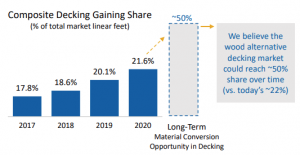 Source: AZEK
A recent AZEK market research study also showed nearly half of consumers in the market for wood decking would consider their types of high-performance low maintenance materials, suggesting that ultimately it is environmentally aware consumers who are driving this trend.
The AZEK Company
AZEK produces low-maintenance, environmentally sustainable outdoor living and building products including decking, rail, trim and accessories across both residential and commercial end markets.
Sustainability and circular economy are core to the business with 54% of extruded materials manufactured from recycled materials in FY'20 (up from 44% in 2019) and they expect this to increase in the future.
Taking a closer look at their decking portfolio, AZEK's capped composite decking products feature ~80% recycled material and ~15% lower global warming potential than sustainably harvested pine decking; while their capped polymer decking products consist of ~50% recycled material and ~5% lower global warming potential.
Their use of recycled products also facilitates the circular economy by diverting hundreds of millions of pounds of waste from landfills each year, turning these waste streams into beautiful products that can last upwards of 25 to 50 years and are recyclable at the end of life.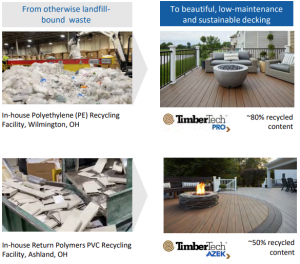 Source: AZEK
In particular, AZEK focuses on reclaimed wood as well as recycled plastics such as polyethylene and PVC. They estimate that 1.6 billion pounds of PVC and 30 billion pounds of polyethylene going to landfills every year could be diverted.
Polyethylene: AZEK's 100,000 square foot polyethylene recycling facility accepts post-consumer and post-industrial recycled polyethylene materials from retailers, waste management companies and municipalities for reprocessing into multiple product lines.
PVC: They have also in-housed recycled PVC sourcing with the acquisition of Return Polymers and the launch of the Full Circle PVC Recycling Program, an on-site collection program where landfill-bound PVC is collected from job sites then sorted, processed and supplied as clean recycled material for multiple product lines.
Wood: 100% of the wood used in AZEK's products are secondary materials such as chips, sawdust and other wood products left over from primary markets such as flooring, furniture and cabinet industries. Nearly three million trees have been saved because customers chose TimberTech decking over wood.
Altogether this represents 400 million pounds of scrap and waste diverted from landfills through AZEK recycling programs and they aspire to increase that to 1 billion pounds of recycled material annually by the end of 2026.
By facilitating circular economy in this way, AZEK is able to create new markets for the business while simultaneously doing good for a traditionally environmentally conservative home improvement industry, creating positive directional ESG change.
AZEK's contribution to the SDGs



Source: AZEK
This blog was written by Kevin Zheng, Ellerston Global Investment Analyst