On Tuesday the 23rd of March 2021, powerful winds forced the Evergreen, a mile-longer container ship, aground in the Suez Canal, one of the world's most traversed shipping lanes.

Source: NY Times
By Wednesday morning, more than 100 ships were stuck at each end of the 120-mile canal, which connects the Red Sea to the Mediterranean and carries roughly 10% of worldwide shipping traffic. It was estimated that the ship was holding up nearly US$10bn of goods each day.

Source: BBC
This is one of the most visible disruptions in recent memory, but with increasing supply chain complexity and globalisation, supply chain challenges of all types are only growing, further exacerbated recently by the pandemic.
Connecting the dots has gotten a whole lot harder
How complicated have supply chains become? Well, let's take a look. Below is a snapshot of the interconnectivity in the automobile & components industry supply chain. This is an admittedly complicated industry, but the complexity is not much better across other industries.
Source: Morgan Stanley
Enter the pandemic, driving demand for many products higher, supply of key components lower, and inconsistency in transportation availability, and you have the recipe for a supply chain disaster. From both a component supply and transportation perspective the worst appears to be behind us, but in the meantime sales have been lost, inflation is widespread and profits are being squeezed.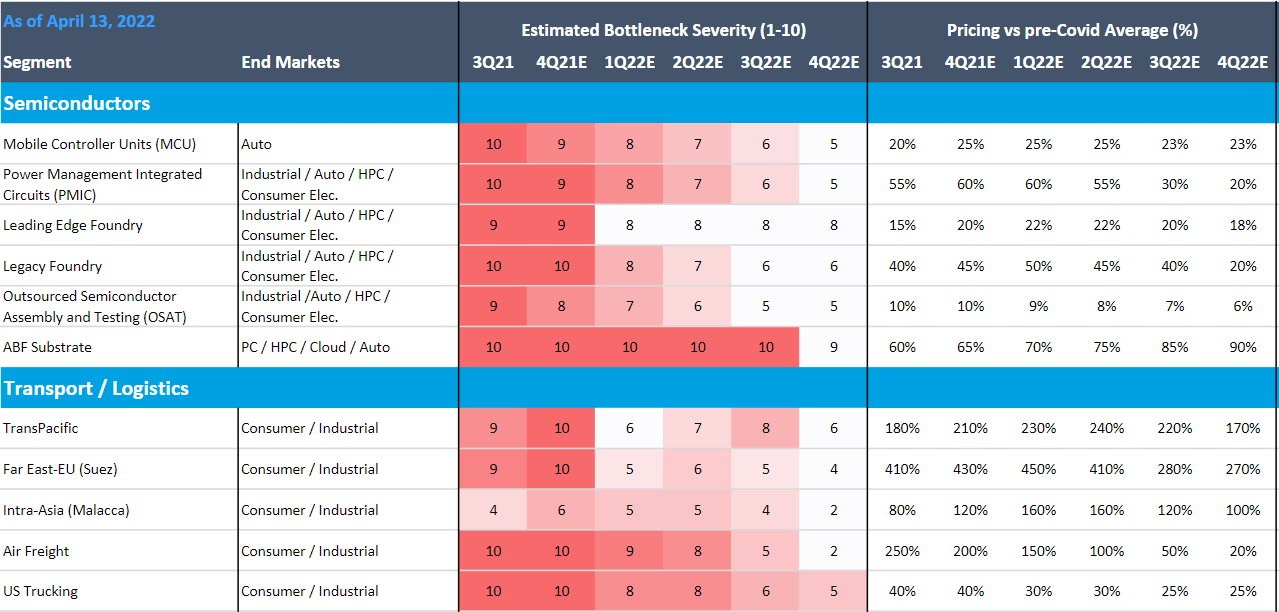 Source: Morgan Stanley
So with that backdrop, it is unsurprising we are seeing increased management focus and investment in supply chain capabilities.
Enter the llama – Coupa Software
Coupa Software (COUP US) is a leader in business spend management software, that is, a cloud platform enabling companies to manage transactions across procurement, payments and supply chain – think of it as the Salesforce of the back office. We view COUP as a key beneficiary of the increasing focus being placed on supply chain.
In late 2020 COUP took a leap forward in its supply chain capabilities with the acquisition of Llamasoft, an AI-powered supply chain design and planning software business. Together with a suite of integrated Business Spend Management (BSM) applications, COUP has a leading supply chain design, planning & sourcing offer. Tools on the platform enabling supply chain and demand modelling are helping customers design consistent and repeatable processes, access and analyse data, and run a range of scenarios (scenarios which customers probably couldn't have imagined only a few years ago).

Source: Coupa Software
Take U.S. apparel retailer and COUP customer American Eagle: Using Coupa's Supply Chain App Studio, American Eagle has developed 10 purpose built apps resulting in 97% faster labour planning and 1.5 days faster delivery to customers.
Your supplier's supplier
But, as if worrying about your own supply chain isn't enough for corporates, ever growing environmental, social and governance (ESG) scrutiny across industries is driving comprehensive analyses of both downstream and upstream implications of suppliers, distributors and the full value chain.
For instance, Germany's Supply Chain Due Diligence Act comes into force on 1 January 2023 and requires companies with more than 3,000 employees in Germany to monitor supply chains for human rights violations and comply with environmental standards. However, nearly two thirds (65%) of businesses worldwide said they are unable to accurately assess whether their suppliers meet ESG standards according to a Sapio Research survey. Furthermore, 57% do not have an effective risk management system in place to ensure ESG integrity of supply chains, according to a Coupa survey.
Take emissions for example. Increasingly companies are considering the full emissions impact including those occurring outside their own walls. The Greenhouse Gas Protocol (GHGP) Scope 3 Standard is one method for companies to account for these types of value chain emissions. The figure below gives a sense for just how in-depth Scope 3 reporting can be.

Source: Greenhouse Gas Protocol
Enter Coupa's Sustainable BSM solution
New BSM capabilities from Coupa help companies improve sustainability and comply with ESG regulation. Key use cases include:
Risk Assessment for Supply Chain Due Diligence (request and manage supplier ESG compliance information)
Visibility into Supplier Risk and Compliance Data (real-time visibility into supplier health, risk and sustainability information)
Collaboration Across Team (operationalise risk management and embed it throughout procurement, supply chain, and compliance operations)
An example of this in practice comes from Saint-Gobain, a €23bn global manufacturer and Coupa customer:
"We are on track to achieve carbon neutrality by 2050. Breaking down silos and improving cross-team collaboration is crucial to accelerate our growth while having a positive impact on the environment. Coupa plays an important role in helping us achieve this goal. We are implementing advanced digital supply chain optimization schemes to challenge and optimize our CO2 emissions, operationalize our approach to sustainability, make progress on ESG standards, and reduce transport-related emissions by an average of as much as 20%," said Philippe Boutonnet, director of supply chain excellence at Saint-Gobain.
Just the end of the beginning
Although there are glimmers of supply chain normalisation following the pandemic, we argue this is only the beginning of a supply chain transformation, and data, systems and software will be more critical than ever.
The fund has held Coupa Software since June 2022.
This blog was written by Quinn Pierson, Ellerston Senior Global Investment Analyst.