We continue to hear more about the circular economy and how businesses can maximise their use of finite resources while minimising external pressures on our environment. The Ellen MacArthur Foundation has a great report titled "The New Plastics Economy, Rethinking the Future of Plastics" which highlights environmental concerns, along with potential solutions, regarding our use of the "ubiquitous workhorse material", plastics.
Only 5% of plastic is properly recycled
The report highlights that while plastics deliver highly functional properties at a very low cost, the drawbacks are becoming increasingly apparent. Approximately 95% of plastic packaging material value, or US$80-120 billion annually, is lost to the economy due to its short first use cycle.
More than 40 years after the launch of the first universal recycling symbol, only 14% of plastic packaging is collected for recycling. When additional value losses in sorting and reprocessing are factored in, only 5% of material value is retained for subsequent use.
More worrying is the likely acceleration of this trend. The report highlights that currently at least 8 million tonnes of plastics leak into the ocean each year, the equivalent to one garbage truck every minute. If no action is taken, this is expected to increase to two trucks per minute by 2030 and four per minute by 2050. This is unsustainable and while the plastics economy is highly fragmented, the collection and recycling infrastructure must rise to help minimise this issue.
Fortunately, this issue is high on the agenda of business, governments and individuals and the general consensus is that the response needs to be accelerated but the question is how and at what cost.
Single use plastics are, as the title suggests, only used once or for a short period of time before being discarded. Consumers are increasingly rejecting the use of single use plastics prompting governments around the world to implement regulations.
The EU Directive was passed in July 2019 with the stated aim:
"to prevent and reduce the impact on the environment of certain plastic products and to promote a transition to a circular economy by introducing a mix of measures tailored to the products covered by the directive, including an EU-wide ban on single-use plastic products whenever alternatives are available".
Plastics and business risks
Given the short lifecycle, single use plastics are more likely to be found in our oceans and the European Union estimates that 70% of all marine litter is attributable to these 10 most commonly found single use plastic items:
Cotton bud sticks
Cutlery, plates, straws and stirrers
Balloons and sticks for balloons
Food containers
Cups for beverages
Beverage containers
Cigarette butts
Plastic bags
Packets and wrappers
Wet wipes and sanitary items
The first-ever Europe-wide strategy on plastics is a part of the transition towards a more circular economy which is focused on sustainable, nontoxic reusable products and reuse systems rather than to single use products in an effort to reduce the quantity of waste generated. Beverage bottles are one of the most common forms of litter in the EU.
In our view, any consumer branded product utilising plastics and not addressing this issue will face significant long-term business risk or conversely, develop long-term consumer loyalty if dealt with properly.
Blue Planet II aired in 2017 and since then consumers have been vocally against the irresponsible applications associated with single-use plastic. As David Attenborough stated in his closing remarks in Blue Planet:
"We are at unique stage in our history. Never before have we had such an awareness of what we are doing to the planet, and never before have we had the power to do something about that. Surely we have a responsibility to care for our blue planet. The future of humanity, and indeed all life on Earth, now depends on us."
Investment opportunities
We have investments in companies which are at the forefront of addressing this issue however the most relevant to consumer packaging is our investment in SIG Combibloc which is based in Switzerland. SIG understands that consumers want to be loyal to a brand which clearly communicates its green efforts while being totally transparent about its processes.
According to the 2018 European Consumer Packaging Perceptions Survey of 7,000 shoppers, three quarters of consumers now say the environmental impact of a product's packaging affects their purchasing decisions and 90% want packaging to be easily recyclable. To analyse the carbon footprint of its carton packs, SIG commissioned independent experts to conduct lifecycle assessments. In every assessment, the lifecycle carbon footprint of a carton pack was found to be significantly lower than other packaging alternatives – by as much as up to 70%: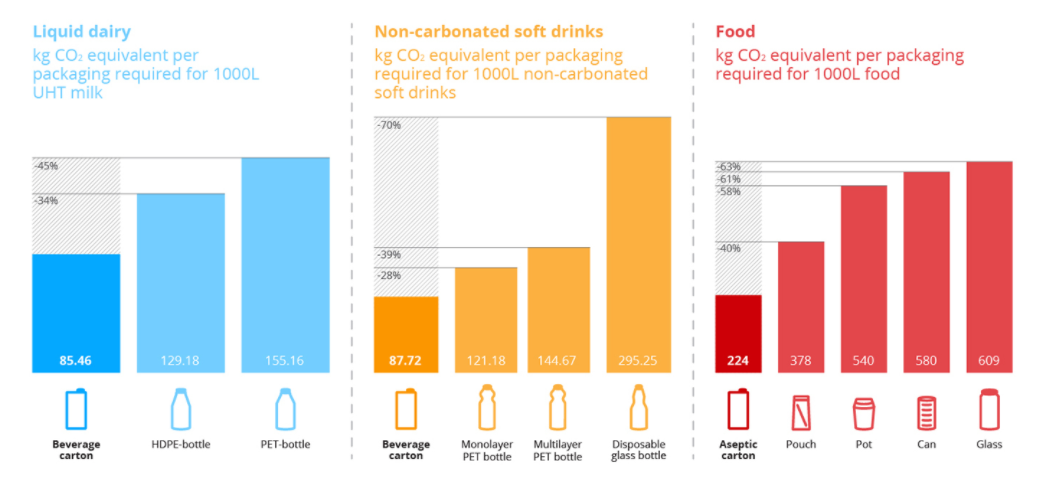 Source: SIG
SIG cartons are made from 70-80% liquid packaging board (LPB), which comes from wood, a bio-based and renewable resource. Trees can grow quickly and be regenerated at a sustainable rate, absorbing carbon dioxide as they grow. This means the LPB in its packs, which are allowed to carry the Forest Stewardship Council™ certification label (licence code: FSC™ C020428), has a very low carbon footprint compared with other packaging materials such as plastic (PET).
All the materials in SIG cartons can be recovered and recycled. Carton board is often used to make high-grade tissue, helping that product shrink its carbon footprint. This is because recycled materials need less energy to produce than virgin materials.
SIG has already taken steps towards a 100% renewable pack by creating combibloc EcoPlus – an aseptic packaging solution that has a significantly smaller lifecycle carbon footprint than the standard aseptic pack. By using a different material structure, it has eliminated aluminium, replacing it with an ultra-thin polyamide layer. This increases the share of renewable materials in the pack from 75% to 82% and cuts the carbon footprint by up to 28%.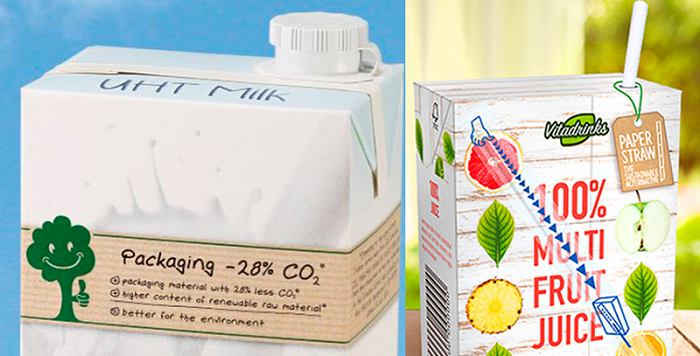 Source: SIG
The key takeaway here is that consumers are demanding environmentally friendly packaging products, governments are regulating and limiting the use of harmful plastics and consumer branded businesses are adopting new innovative solutions. Hopefully we can show the Earth she can depend on us.