Food Security is the physical and economic access to sufficient quantities of safe food to meet the basic nutrition requirements for an active and healthy lifestyle, as described by the United Nations. Food security is a fundamental necessity for economic growth and development. Approximately 9% of the world's population is classed as severely 'food insecure'. By geography, concentrations occur in Africa, South America, the Middle East and South East Asia. Without guaranteed access to safe food, emerging nations will continue to be disproportionately burdened. Crucial to solving the issue of food security is ensuring that food stays safe at every step of the supply chain; from farming to harvest, processing, storage, distribution and consumption.
Currently, there are an estimated 600 million cases of foodborne illnesses annually. Foodborne illnesses are usually infectious or toxic in nature and often invisible to the human eye, caused by bacteria, viruses, parasites or chemical substances entering the body through contaminated food and water. The United Nations estimates that 420,000 people globally die each year from consuming contaminated food. Alarmingly, children under 5 years old suffer 40% of this with 125,000 related deaths every year. In actuality these astonishing figures are higher, but comprehensive data around foodborne illness is lacking in some countries. Food Safety is a social and economic issue that requires significant investment and innovation. 
Packaging A Solution
In the beverage and food industry a process called aseptic packaging is used globally by Fast-Moving Consumer Goods (FMCG) companies to ensure that regardless of geography, their products are both safe and nutritious by the time they reach the end consumer. Aseptic packaging is a specialized manufacturing process in which food, pharmaceutical, or other contents are sterilized separately from packaging. The contents are then inserted into the packaging in a sterile environment. This method uses extremely high temperatures to maintain the freshness of the contents while also ensuring that it's not contaminated with microorganisms and harmful bacteria.
Global FMCG companies such as Nestle and Danone have adopted aseptic packaging procedures in recent years. The aseptic technology allows these companies to produce shelf-stable products without the use of preservatives which are known to decrease the nutrition and health benefits of their products. A product in aseptic packaging has a shelf life of up to 12 months and does not require any refrigeration while sealed. Think of the long life or plant-based milk cartons in your pantry at home. For companies like Nestle and Danone, this extended shelf life and guarantee of product safety has allowed them to take their products to more widespread markets, opening them up to further growth in e-commerce and emerging markets.

The global aseptic packaging market size was valued at $15.5 billion in 2020, and is projected to reach $32.3 billion by 2028, growing at a CAGR of 9.8% from 2021 to 2028. The Aseptic packaging market is a duopoly between SIG Combibloc and Tetra Pack which is unlisted. The aseptic carton industry itself is growing as FMCG companies prioritize safer packaging solutions in emerging markets and more sustainable packaging in developed markets. SIG Combibloc is slowly taking share from Tetra Pak due to the increased efficiency of their filler machines. Consumer staple brands are laser-focused on increasing efficiency and lowering operating costs, particularly in this high-inflation environment. SIG estimate their market share gains are approximately 0.5% a year.

There are many advantages of aseptic packaging that appeal to companies and their end consumers including:
Ensures food safety as it protects contents and packaging from harmful bacteria.
Protects nutritional content as the process circumvents the need for preservatives.
Refrigeration is not required in the transportation service which increases accessibility for all end consumer.
Packaging shape allows for more efficient storage and transportation than bottles, cans and jars.
Less packaging is required which means a higher product to packaging ratio.
The product is more convenient for the end of consumer because its light and portable.
The disadvantages of aseptic packaging are:
Recycling can be difficult due to the multiple layers and materials used in construction of the cartons.
Production costs can be higher due to a more complicated system, resulting in increased costs for the FMCG and the end consumer.
SIG-nificant Advantages
SIG Combibloc engineers filler machines and provides the aseptic sleeves used in these machines. Since the acquisition of Scholle IPN and Evergreen Asia, geographic exposure is now well diversified throughout Europe, Middle East and Africa, Asia Pacific and the Americas. In terms of product mix and vertical the company supplies equipment, cartons, spouted pouches and bag-in-box solutions across industrial, commercial and retail end markets.
'NEO'
The SIG NEO filler machine is the latest in a string of technological developments by the company which brings significant benefits to all stakeholders. The NEO allows food and beverage customers to optimize their output while minimizing input costs, reducing waste and increasing food safety. It reduces total cost of ownership through longer production runs, shorter cleaning times and increased technical efficiency.

50% higher output with a similar footprint meaning less consumption of utilities
The NEO allows for a production cycle of more than 100 hours
60% reduced water usage
25% reduction in greenhouse gas emissions including carbon, per filler pack
Lowest product waste rate in the industry, below 0.5%
Speed of 18,000 packs an hour for mid-size cartons, the fastest in the market today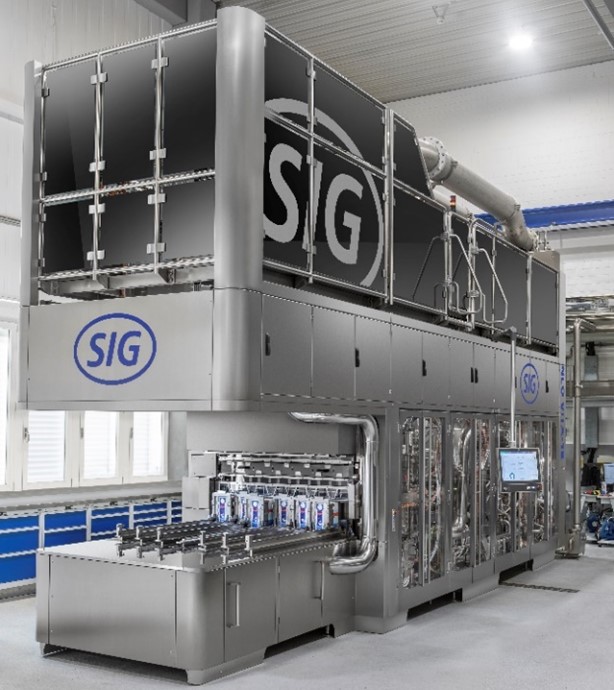 'SigNature'
To increase the sustainability of their products SIG Combibloc introduced the SigNature line of carton sleeves. This alternative decreases the resource wastage for their food and beverage customers and also makes end of life recycling easier for the consumer. Like all SIG sleeves, the main material is sustainably sourced FSC-certified paperboard. However, the SigNature product has eliminated the need for a fossil fuel-based plastic layer to seal in the contents which are sensitive to oxygen exposure. This is replaced with a renewable plant-based material that achieves the same level of quality assurance for the products.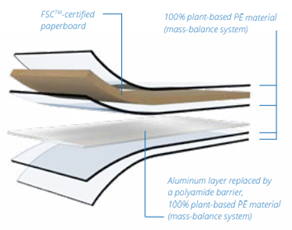 SIG Combibloc will continue to innovate on their filler and sleeve technology to win share of the aseptic packaging market. In turn, their food and beverage customers have certainty that their products remain nutritious and safe for the end consumer in all regions of the globe. SIG Combibloc customers can be assured they are not contributing to food insecurity.
A reminder that we are hosting our next Global Mid Small Cap investment update on Tuesday the 18th of April 2023 at 10am AEST for which you can register your interest here.
This blog was written by Kelsey Bentley, Ellerston Global Investment Analyst.
Sources:
https://www.un.org/en/observances/food-safety-day
https://www.un.org/en/observances/food-safety-day/resources
https://www.oecd.org/agriculture/topics/food-security/#:~:text=A%20person%20is%20considered%20%E2%80%9Cfood,Committee%20on%20World%20Food%20Security).
https://www.sig.biz/en/technology/filling/sig-neo
https://www.sig.biz/investors/en/performance/annual-reports
https://www.who.int/docs/default-source/food-safety/food-safety-report.pdf?sfvrsn=e47a7899_2