Many countries around the world run a single payer healthcare system where one government-related body such as Medicare finances and regulates the prices for pharmaceutical drugs and healthcare services. Similar to what we enjoy in Australia, these systems often involve universal coverage where everyone is covered for a base line level of care.
On the other hand, the United States operates a unique multi-payer healthcare system where large private insurance companies compete with one another; with some elements of single payer (Medicare); employer-sponsored health insurance; as well as self-pay (out of pocket).
In part, due to this free-market-like approach, the US healthcare system has long been under immense strain with large swathes of Americans facing deteriorating financial access to care even prior to the COVID-19 pandemic. In 2019, a Gallup survey found that a record 25% of Americans said they or a family member put off treatment for a serious medical condition because of the cost.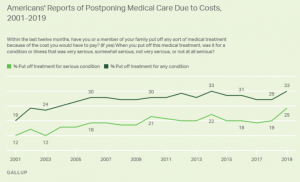 This is despite the United States spending a significant $3.6tn (or 17% of GDP) a year on health, according to CMS Data. Based on OECD health statistics, a cross-national study done by the Commonwealth Fund found that as a proportion of GDP, the US spends nearly double that of the average OECD country on healthcare yet has the lowest life expectancy and highest suicide rates.
Healthcare Spend as a % of GDP, adjusted for differences in cost of living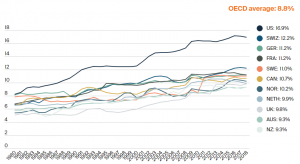 Source: OECD Health Statistics 2019
Revamping a Price-Driven Hospital System
The key to improving financial access to healthcare will involve revamping hospital care which represents $1.2tn or almost one third of total US health spend according to CMS National Health data.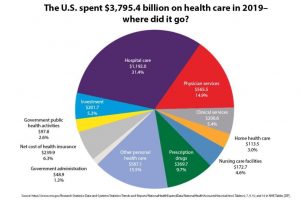 The consolidation of the US hospital system has led to decreasing competition as individual hospitals are increasingly likely to be a part of multi-provider health systems rather than operating independently. This leads to higher costs for patients as the fewer number of dominant private players are able to leverage their pricing power with insurers to achieve record operating margins.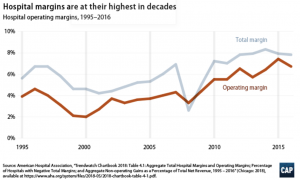 Regulatory reform – price pressure drives greater cost efficiency
It could be possible that hospital networks engage in such price-raising simply to compensate for insufficient payment from public programs. However, the Centre for American Progress (CAP) suggests that it is more likely that private hospitals command higher prices from private payers thereby enjoying a greater financial cushion and face less pressure to contain costs.
With such public and regulatory scrutiny on pricing only increasing, it is critical that hospitals focus on more effective utilisation of their resource base while achieving higher quality care. This is even more important with the gradual shift towards value-based care, a healthcare delivery model where providers (including hospitals and physicians) will be compensated based on patient health outcomes rather than only volumes.
Healthcare at home
With brick and mortar overhead representing almost two thirds of hospital-based healthcare costs, an effective way the healthcare system can improve resource efficiency is deploying care in a setting outside the hospital. Hospital at Home programs combine in-home and virtual visits with remote monitoring and have been able to halve the cost while improving patient outcomes.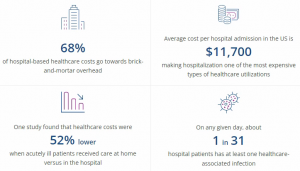 The advantages of healthcare at home include:
A more comfortable and convenient experience than a hospital stay for many patients
Reducing unnecessary hospitalisation and associated risk of known complications e.g. hospital infections;
Cost efficiency – ~50% lower average cost of care than in-hospital care
Lower average length of stay yet longer face time with clinicians
Adoption of healthcare at home programs has steadily increased with greater regulatory forms of reimbursement. However, there is still significant room for growth. This is especially as in 2019, home health care only represented $113bn or 3% of total healthcare spend.
COVID-19 has accelerated the shift towards at home care
Since the outbreak of the pandemic, hospital systems have been under even greater strain as additional general and intensive care unit (ICU) bed capacity and new processes to treat COVID-19 patients impact general care. The recovery of elective surgeries has been delayed yet again, all while the Omicron variant eats through their clinical labour base of hospital workers.
It has become undoubtable that COVID-19 has accelerated the shift towards healthcare at home. Pressed by the need to keep patients out of the hospital, healthcare providers have had to rethink how care is provided. It has also encouraged Medicare to allow providers to bill for acute care treatments at home through the Acute Hospital Care at Home waiver.
This at home shift is strongly highlighted by UnitedHealth, one of the largest US health insurer and providers, who said on its January 19, 2022 earnings call that:
"actually, particularly as we've gone through the pandemic environment, people's preference to have care delivered in the home has become clearer and clearer."
Option Care Health – delivering infusion therapy at home
Encapsulating on this at-home shift is Option Care Health (OPCH US), the market leader in providing home infusion therapy. It is the only independent player with national scale and in-network relationships with all the main health insurers.
The company's clinicians administer a wide variety of intra-venous therapies including immunoglobulin infusion to treat immune deficiencies, anti-infective infusion to combat serious infections; nutrition support infusion; bleeding disorders infusion; and other therapies for chronic and acute conditions.
All of these infusions are done at the patients' home or at a local infusion suite, providing "equivalent clinical efficacy, greater patient convenience and satisfaction and reduced risk of immunocompromised people, at up to one-half the cost of traditional settings". In this way, it is estimated that home infusion providers such as Option Care help hospital systems save ~$2000 per patient per day while delivering greater patient outcomes, including improved clinical-reported patient adherence rates and decreased rates of unplanned re-admissions.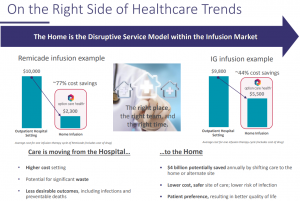 More recently during the pandemic, the business' value proposition has become even more prominent as they have been able to help hospital customers take transfer of existing patients receiving infusion therapy in hospitals, into a home or local infusion suite setting.
In this way, Option Care Health not only contributes to the good health and well-being of its patients, but also helps hospitals become more efficient in managing their costs while delivering better patient outcomes.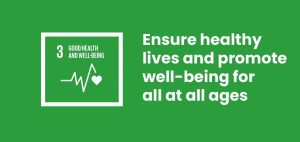 The Fund has held Option Care Health since July 2020 and we believe it is taking the US healthcare system a step closer to a value-based future.
This blog was written by Kevin Zheng, Ellerston Global Investment Analyst