Supply Chains of the Future
The COVID-19 pandemic sent shockwaves through global supply chains. Companies are fighting to keep their manufacturing operations running in the face of component, raw material and labour shortages. On top of this, sudden spikes in consumer demand have exacerbated the issue and highlighted the rigid and unbending nature of current supply chains. This serves as a significant opportunity for companies to rebuild their supply chains for a more sustainable future. In addition, regulatory requirements, investor pressure and consumer expectations have all raised the bar in what is expected of companies.
As a result, businesses are being forced to critically assess their supply chains and make much needed changes. In 2020, McKinsey & Co. conducted a survey of 60 senior supply chain executives working across multiple industries and geographies. In the food and consumer goods industries, all respondents had experienced production and distribution issues and >90% had problems with their suppliers. Most importantly, 93% of respondents said they plan to increase investment and build the resiliency of their supply chain after the pandemic.
While companies are investing to become more agile and automated, customers are increasingly looking for brands that are more sustainable. It is widely accepted across the food and fashion industries that the foundation of the circular economy is raw material traceability.
"Organizations are coming to terms with the fact that their operations can't simply be about just optimization or just ethical and sustainable practices—they must be both… The new status quo will likely look very different, and must go far beyond simply meeting the goals of the bottom line. If we have learned anything from this pandemic, it is that building a resilient, agile and sustainable supply chain is a pre-requisite for future success". (Natalie Shuman Executive President CIF NA at Bureau Veritas, 2020).
The role of traceability and mapping
Supply chain traceability is the potential to track the provenance of raw materials within products. A finished product could be divided into components and raw materials with each being traced back to the beginning of the supply chain. Traceability has long been sought after in the food and pharmaceutical industries where ingredient listing and safety is critical. These capabilities are becoming increasingly attractive to industries outside the typical scope, as companies look to make credible and verified claims against sustainability initiatives. These claims include organic cotton, carbon neutral, vegan, not tested on animals and no forced labour. Tracing raw materials through the entire supply chain is a way for companies to prove accordance with industry certifications and regulations such as the Sustainable Forestry Initiative (SFI) and the Modern Slavery Act (2015).
True end-to-end traceability requires significant technology investment across industries and is still in early phase build out and adoption. Establishing traceability is all about collecting and streamlining data to increase transparency of operations. Companies are beginning to implement this through supply chain mapping. This is the process of disclosing all companies within every stage of production, it helps to create a visual representation of stakeholders at each tier but does not track the flow of goods through to an individual order.
The UN's 12th Sustainable Development Goal; responsible consumption and production is one of the most reported on goals amongst the S&P 500. Specifically, section 12.8 highlights the need for everybody to 'have the relevant information and awareness for sustainable development and lifestyles in harmony with nature'. To enable this transformation, industry experts have identified traceability as the building blocks for future investment in sustainable initiatives targeting recyclability and circular economy.
Today's sustainability commitments drive demand for traceability tomorrow.
Corporate commitments being made today require critical investment in supply chains. A significant challenge for brands committing to circular economy initiatives is product and material traceability. A key requirement of circularity is to identify the origin of post-consumer recycled products and their raw material composition. Without this, the new use cases for these materials becomes significantly limited.
Corporates are also seeing increased scrutiny of their supply chains. Consumers want to know where their products came from and who made them. ASOS announced its Be Transparent initiative which is working towards full public transparency of every own-brand product by 2030. ASOS plan to show this information on their platform so consumers can use the information to inform their purchases.
The ASOS supply chain is currently fully mapped to Tier 3 but it plans to release the Tier 4 and 5 map publicly by 2030. This is an example of how supply chain planning and transparency can allow a company to meet Sustainability targets and consumer trends. ASOS now partners with Bureau Veritas, certification and inspection specialists, to reduce supply chain risks and ensure compliance. Bureau Veritas provide ASOS with a complete set of solutions including product testing in over ten countries, assessing factories in more than fifteen countries and auditing supplier's raw material and chemical use.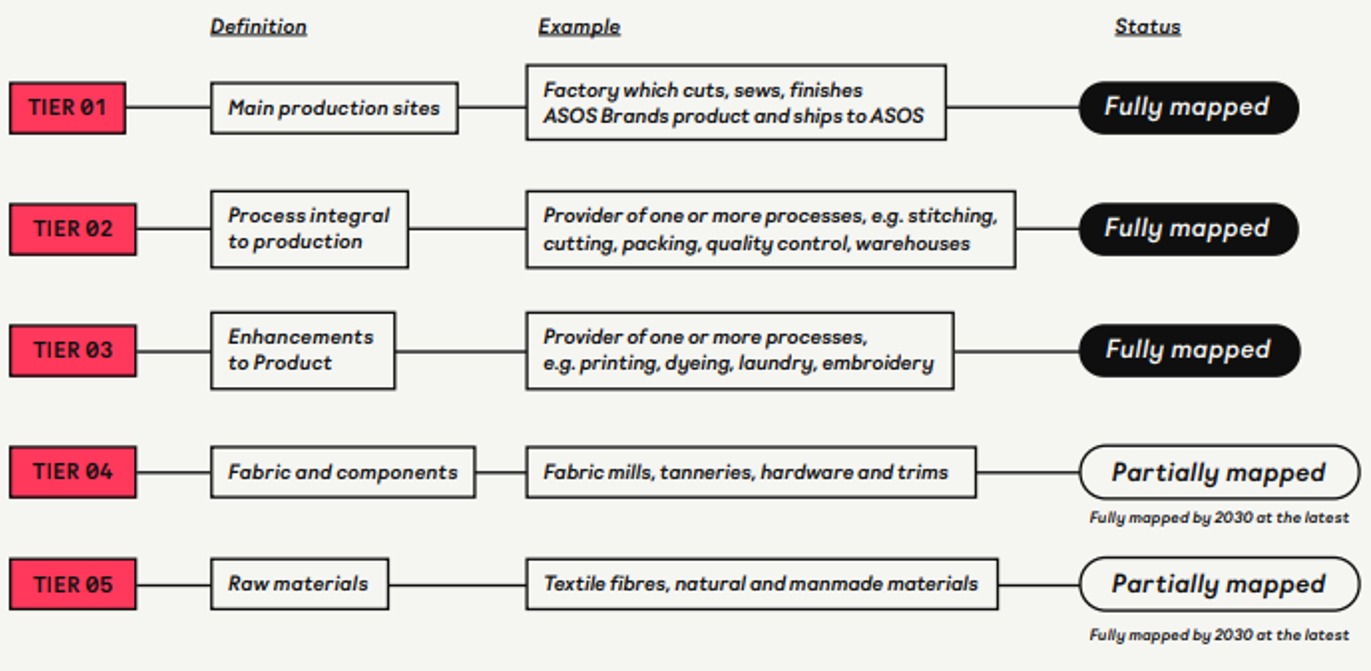 Requirements for ethical sourcing and traceability are even higher in the food industry. Sysco is a leading food service distributor in the US. The company has been working with the World Wide Fund for nature (WWF) for over a decade to improve the sustainability of seafood harvesting. As aquaculture grows, the need for farm-raised seafood is similarly expected to increase. The company has committed to working with the WWF to source responsibly farmed and traceable seafood that did not result in the destruction of natural ecosystems.
The Green Bottom Line
Bureau Veritas provide a growing suite of sustainability offerings to their customers. This opens the company up to new market opportunities for the future as it grows alongside the changing needs of its diverse customer base.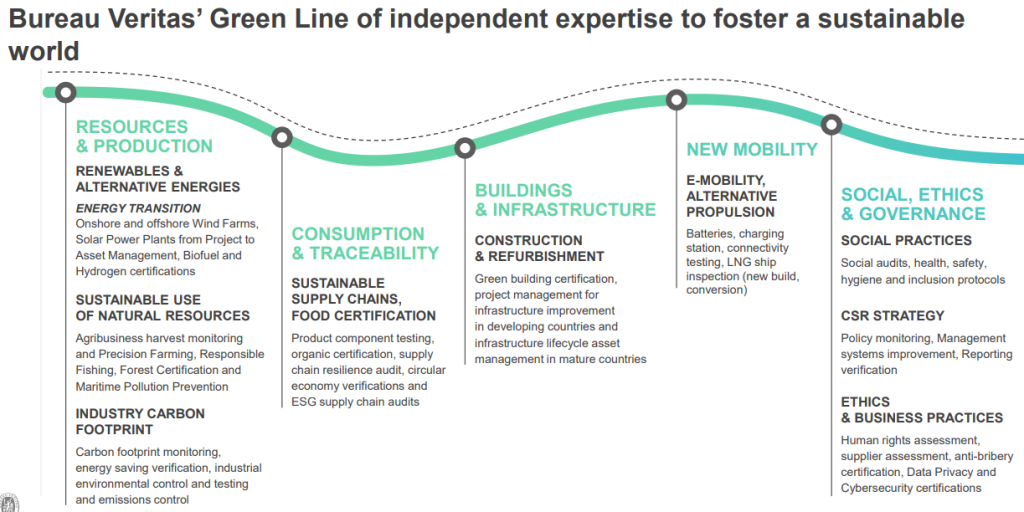 Source: Bureau Veritas
A key pillar of this growth strategy is consumption and traceability services. The primary markets they operate in are sustainable forestry, metals and minerals certification, sustainable waste management and social responsibility in sourcing. Offerings range from verifying regulatory compliance with Modern Slavery and Sustainable Forestry requirements to compliance with industry adopted best practices.
In 2021, Bureau Veritas won contracts from Food Services Company Sodexo to upgrade its waste management certification in Spain, supporting them with food waste reduction, sustainable forest certification and biodiversity services. Bureau Veritas is also helping Walmart with the launch of its automated platform 'eco records' for managing sustainability compliance through their supply chain. The platform will centralize and accelerate sustainable submissions and review processes, with Bureau Veritas performing document reviews.
In response to the pandemic, companies are being forced to look closely at their supply chains and assess the risks throughout. As investor pressure mounts and reporting requirements for ESG metrics such as the Corporate Sustainability Reporting Directive (CSRD) in development in the EU become mainstream, sustainability will be seen as a non-negotiable standard. Ultimately, this will increase the need for traceability services and inform future supply chain investment.
This blog was written by Kelsey Bentley, Ellerston Global Investment Analyst