E-Waste Revisited 
In May of this year we blogged about e-waste (see: E-waste: big problem, bigger opportunity).  The highlights (lowlights really) are that an estimated 57.4m tonnes of e-waste was generated in 2021 (greater than the weight of the Great Wall of China). The problem is that these broken or unwanted electronics have typically been dumped in landfills however they also include toxic substances such as mercury or lead that can leach into our soil and waterways.
At the time we noted the challenge with smartphones in particular (over 1.4bn sold in 2021), and portfolio company Assurant's trade-in program which over the past year repurposed more than 116m devices diverting over 23k tonnes of e-waste from landfills.
Coming From The Cloud
But alas, today we flag another large and fast growing e-waste contributor: data centers. 
We have all heard the steadily increasing drum beat of the importance of the cloud. Cloud strategy, perhaps once just a discussion amongst IT specialists, now dominates the board room.  Growth is staggering and shows few signs of letting up.  To put it in context, cloud service providers (Amazon Web Services, Microsoft Azure, Google Cloud Platform, Oracle Cloud and IBM Cloud comprising the top 5) are forecast to generate nearly half a trillion dollars of revenue in 2022.  Their revenues have grown 30% per annum from 2015-2020 and set to grow 19% per annum from 2020-2025.
Partly serving these "hyperscalers", and partly serving a range of other corporates with their own cloud requirements, multi-tenant data centers have also grown at a remarkable pace.  The multi-tenant data center market is expected to generate $42 billion of revenue in 2022, up 14% from a year ago.


Source: Credit Suisse.
These data centers powering the cloud are effectively large and secure warehouses containing a raft of electronic equipment such as servers, switches, modems and routers.  The problem is that given ongoing technology innovation these products are frequently upgraded as asset owners weigh up the trade-off of performance, operating costs and capex costs.  The refresh cycle varies although is typically within 3.5-6 years.  But further, as a company moves to the cloud, they are typically left with similar and now redundant equipment from their legacy on-premise facilities. 
For some perspective on scale, let's consider Google's Pryor Creek data center in Oklahoma.  DataCenter Knowledge estimates this facility at 980k sqft, while Rack Solutions estimates this facility could house 2.7m 1U servers. The largest data centers can even be several times larger.  The takeaway is that every year the industry generates an enormous amount of e-waste, which is only set to continue growing. 
Reduce, Reuse, Recycle: Enter Iron Mountain
So what can be done to reduce this e-waste?  Iron Mountain's (IRM US) Asset Lifecycle Management (ALM) division is one such business focused on helping its customers with this issue. They have capabilities to re-market assets where possible through refurbishment, data sanitization and reselling at a market price, thus reducing the total cost of ownership for the customer.  And where re-marketing is not possible, e-waste recycling occurs by de-manufacturing the assets into commodity categories subject to guidelines including no-overseas and no-landfill policies. IRM is one of the largest IT asset disposition players, operating in 30 countries, sanitizing 3m+ drivers per year and generating US$1bn+ for clients via asset re-marketing.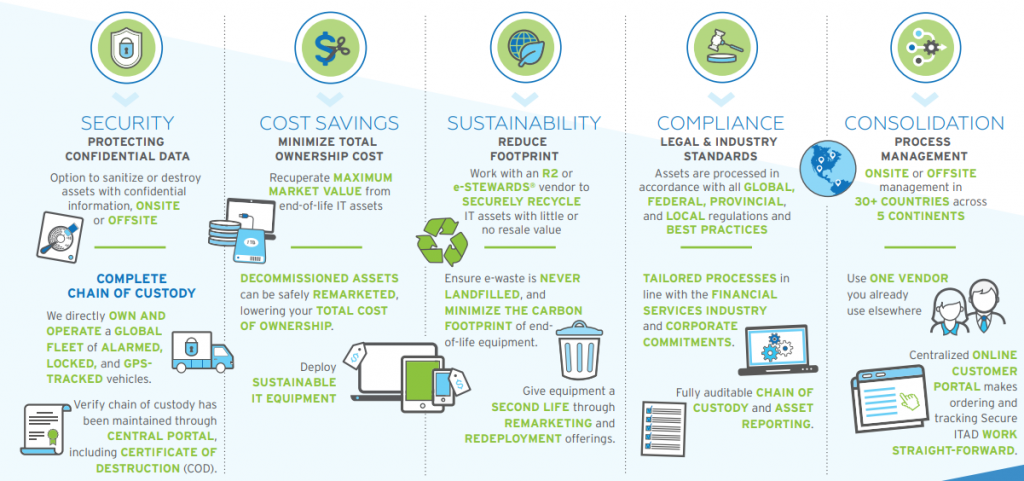 Source: Iron Mountain
IRM bolstered their ALM capabilities in December 2021 with the $1bn acquisition of ITRenew. Whilst Iron Mountain has a history of supporting enterprise customers with their asset storage needs, ITRenew principally serves the hyperscalers in the global IT asset disposition market.  Across the various end markets, and with bolstered hyperscaler exposure, IRM estimates the market size at $30bn.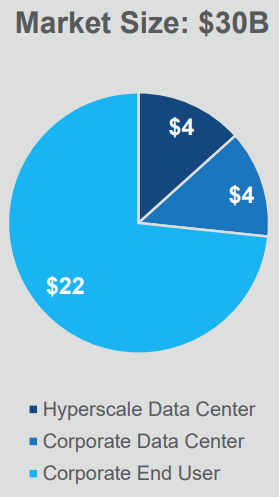 Source: Iron Mountain
But there are challenges. In particular, sensitive data is often contained on the equipment being decommissioned, which must be thoroughly sanitized and erased.  Further complications arise such as maintaining backup data during migration processes in case problems arise. Decommissioning equipment on a large scale therefore requires detailed planning, thorough data cleansing and trusted chain of custody services. 
As an example, IRM supported a leading connected healthcare tech company with a large data center decommissioning.  Globally the customer is moving from on-premise technology toward a cloud-enabled business. In line with this strategy it closed an on-premise data center facility to consolidate within a private cloud facility hosted 25 miles away.  As part of the process IRM physically dismantled, palletized, transported, scanned, documented, and disposed of over 600 end-of-life servers and associated data drives, with services including providing a physical asset audit trail by way of vehicles with GPS trackers and lock sensors.  Whilst a logistical and operational challenge, effective and environmentally sound IT asset decommissioning is far from unsurmountable and will continually need to be addressed.
Managing The Problem With The Circular Economy
Overall the size of the problem is only set to grow right alongside cloud growth.  But with an increasing focus on a circular economy via reusing and recycling, we can manage the impact of the problem to the best extent possible.
The fund has held Iron Mountain since September 2022.
This blog was written by Quinn Pierson, Ellerston Senior Global Investment Analyst.
Sources:
https://www.researchandmarkets.com/reports/5318361/global-it-asset-disposition-market-by-service?utm_source=GNOM&utm_medium=PressRelease&utm_code=h3l493&utm_campaign=1535256+-+Global+IT+Asset+Disposition+Market+(2021+to+2026)+-+Strategic+Partnerships+and+Acquisitions+Presents+Opportunities&utm_exec=jamu273prd
 https://www.ironmountain.com/resources/case-studies/s/secure-and-sustainable-data-center-decommissioning
https://www.ironmountain.com/services/it-asset-lifecycle-management
https://www.datacenterknowledge.com/archives/2017/03/16/google-data-center-faq
https://www.racksolutions.com/news/blog/how-many-servers-does-a-data-center-have/