The Ellerston JAADE Australian Private Assets Fund is a collaboration between the Ellerston Ventures investment team of David Leslie and Anthony Klok, and Aristocrat's ex-CEO, Jamie Odell and ex-CFO Toni Korsanos. The founding partners are uniquely positioned and have complementary skill sets, providing proven operational and management expertise as well as a consistent investment track record. Ellerston JAADE Australian Private Assets Fund is an Australian Expansion / Growth stage and Pre IPO investment fund operated as an open-ended unit trust.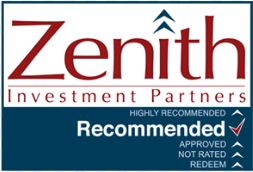 Ellerston JAADE Australian Private Assets Fund received a recommended rating by Zenith Investment Partners (assigned February 2019). It is the only Private Equity Fund in Australia that has achieved this rating.
The Zenith Investment Partners (ABN 27 103 132 672, AFS Licence 226872) ("Zenith") ratings (assigned 1 August 2019) referred to in this document are limited to "General Advice" (s766B Corporations Act 2001) for Wholesale clients only. This advice has been prepared without taking into account the objectives, financial situation or needs of any individual and is subject to change at any time without prior notice. It is not a specific recommendation to purchase, sell or hold the relevant product(s). Investors should seek independent financial advice before making an investment decision and should consider the appropriateness of this advice in light of their own objectives, financial situation and needs. Investors should obtain a copy of, and consider the PDS or offer document before making any decision and refer to the full Zenith Product Assessment available on the Zenith website. Past Performance is not an indication of future performance. Zenith usually charges the product issuer, fund manager or related party to conduct Product Assessments. Full details regarding Zenith's methodology, ratings definitions and regulatory compliance are available on out Product Assessments and at http://www.zenithpartners.com.au/RegulatoryGuidelines
Ellerston JAADE Advantage
Institutional
infrastructure
Outstanding access
to deal flow
Unique open
ended structure
Ellerston JAADE Portfolio Companies
Ellerston JAADE Investment Criteria
The Fund will acquire minority interests in high growth private technology companies that have:
Revenue
> $10M
Sustainable
unit economics
Strong
competitive
positions
High revenue
growth
of at least 20%
Clear plans
for realisation
or IPO
Invest With Us
If you are considering an investment in Ellerston JAADE and would like to receive a copy of the Information Memorandum of the Fund, and/or to arrange a meeting to learn more, please email us and a member of our team will contact you directly.
Phone (02) 9021 7701
Email jaade@ellerstoncapital.com