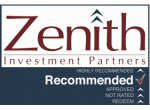 True diversification and consistent returns from a fund with a low correlation to equity market returns
At a Glance
The Ellerston Australian Market Neutral Fund harnesses a unique investment process to produce consistent returns over time regardless of market conditions. The strategy is designed to help reduce or eliminate the extreme highs and lows that so often characterise sharemarket investments, controlling risk and providing more stable returns over time.
Our team quantitatively screens and analyses stocks in our investment universe, identifying pairs of securities that have exhibited a historical long term relationship and that have become temporarily dislocated, causing a relative mispricing.
Where we expect the longer term relationship to prevail, and taking into account our fundamental value of both securities, we can execute a pair trade (relative value).
We also look to take advantage of special situations, including share recapitalisations, mergers, takeovers, restructures, security conversions, placements, IPOs, sell downs and share buybacks. These positions are expected to generate profit in both rising and falling equity markets and in our assessment with a high probability of positive returns and low probability of capital loss.
We favour liquid securities to minimise market impact during trading.
Our Awards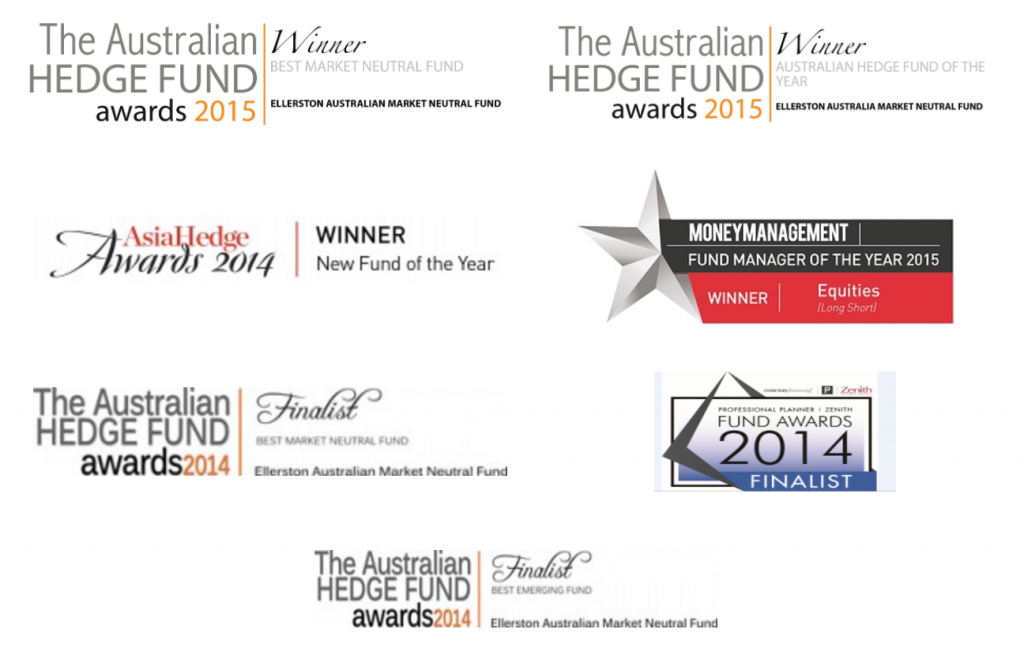 + Disclaimer and Notes
Ellerston Capital Limited ABN 34 110 397 674 AFSL 283000 is the responsible entity and issuer of units in the Ellerston Australian Market Neutral Fund ARSN 168 025 670. Any information is general and does not take into account your personal objectives, financial situation or needs. Accordingly you should consider the Product Disclosure Statement before deciding whether to acquire or continue to hold units in the Fund available from this website or by contacting us on 02 9021 7797.
Zenith Disclaimer
The Zenith Investment Partners ("Zenith") Australian Financial Services License No. 226872 rating (assigned April 2014) referred to in this document is limited to "General Advice" (as defined by the Corporations Act 2001) for Wholesale clients only. This advice has been prepared without taking into account the objectives, financial situation or needs of any individual. It is not a specific recommendation to purchase, sell or hold the relevant product(s). Investors should seek independent financial advice before making an investment decision and should consider the appropriateness of this advice in light of their own objectives, financial situation and needs. Investors should obtain a copy of, and consider the PDS or offer document before making any decision and refer to the full Zenith Product Assessment available on the Zenith website. Zenith usually charges the product issuer, fund manager or a related party to conduct Product Assessments. Full details regarding Zenith's methodology, ratings definitions and regulatory compliance are available on our Product Assessment's and at http://www.zenithpartners. com.au/RegulatoryGuidelines
Lonsec Disclaimer
The Lonsec Rating (assigned October 2014) presented in this document is published by Lonsec Research Pty Ltd ABN 11 151 658 561 AFSL 421445. The Rating is limited to "General Advice" (as defined in the Corporations Act 2001 (Cth)) and based solely on consideration of the investment merits of the financial product(s). Past performance information is for illustrative purposes only and is not indicative of future performance. It is not a recommendation to purchase, sell or hold Ellerston Capital product(s), and you should seek independent financial advice before investing in this product(s). The Rating is subject to change without notice and Lonsec assumes no obligation to update the relevant document(s) following publication. Lonsec receives a fee from the Fund Manager for researching the product(s) using comprehensive and objective criteria. For further information regarding Lonsec's Ratings methodology, please refer to our website at: http://www.beyond.lonsec.com.au/intelligence/lonsec-ratings
Professional Planner/Zenith Fund Awards Disclaimer
The Professional Planner | Zenith Fund Awards are determined using proprietary methodologies. Fund Awardswere issued October 10, 2014 and are solely statements of opinion and do not represent recommendations to purchase, hold, or sell any securities or make any other investment decisions. Ratings are subject to change. The use of the Fund Awards logo and artwork is limited to organisations which consent to these Terms of Use. Use of the logo implies this consent has been given. Any requests for variation of these terms of use must be made to: Conexus Financial, Level1, 1 Castlereagh Street Sydney NSW 2000. Conexus Financial may terminate the licence to use the Professional Planner Zenith Fund Awards logo at any time upon written notice.